Salmon Roasted in Phyllo Pastry
You need:

8-10 ounce salmon filets, at least 1" thick and de-boned.
1/2 cup minced cilantro
1 minced green onion
1 tablespoon grated lemon peel (I substituted orange peel)
1/4 cup melted butter
1/2 cup olive oil
2 sheets of phyllo pastry per fish piece

You get phyllo pastry in the frozen foods, comes rolled in a box -- you need to thaw it out first, but don't let it dry out.
Combine cilantro, green onion, and orange/lemon. Roll fish in it until lightly coated.
Take out a sheet of phyllo, brush with oil/butter mix, then put another sheet on top and brush again.
Put salmon piece onto phyllo, fold sides, then roll over to make a rectangular packet.
Put packet on ungreased cookie sheet.
Repeat for others -- for thin parts of salmon, like in the belly, you can stack two pieces together.
Bake at 425 for 10-12 minutes.
The phyllo should be golden brown and crisp.
Voila! Gourmet salmon treats for the whole family, from the waters of Sooke, right onto your table.

We tried this same recipe with halibut and it was excellent too.
Thanks to Carol Clemens for this recipe, from Island Fisherman magazine (Jan/Feb 2007).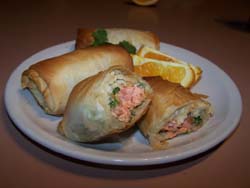 Sooke Fishing Adventures
info@fishingsooke.ca
Phone: 1-250-642-2587