Butternut Squash Salmon Chowder
Very easy to prepare -- great for cold winter days (and also a good use of freezer burned salmon, if you ever run into that problem).
First the Spousal Special Cheater Version -- maximum impressiveness, minimal work.
Empty 1 litre tetrapak of Pacific Foods Organic Butternut Squash Cream Soup into large pot; medium-low heat.
Add 1 filet of salmon, cut into 2cm cubes.
Add 1 can of corn niblets.
Add 1 large carrot, diced finely.
Add one-half red onion, diced finely.
Add 1 bunch of fresh dill or 1-2 tablespoons dried dill.
Cook 30 minutes, until salmon flakes with a fork.
Add fresh squeezed lime if you like citrus.
Salt and pepper, to taste.
Now the version from scratch:
4 cups of water in a medium pot, on medium-low heat.
Peel 1 butternut squash, cut into squares, add.
Chop up onions, carrots, corn, 3 sprigs of scallions, dill and add them to the pot.
Cover and let cook on a low flame for 30 minutes. Taste and add salt and pepper.
Cut up the salmon and add it to the soup, along with the cream.
Let cook for another 20 minutes.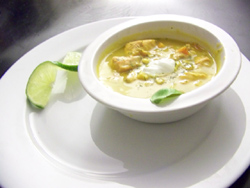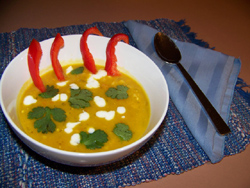 Sooke Fishing Adventures
info@fishingsooke.ca
Phone: 1-250-642-2587