Prawns in Spicy Coconut Sauce
For a simple shrimp and prawn cook-up, boil in salted hot water for 3 minutes...NO MORE! Better a bit raw than overcooked. They can be cooked whole or with heads removed. Serve with some garlic butter, cocktail sauce (ketchup, mayo, horseradish or tabasco), or what have you.
Or, for some variety try this very flavourful meal. Recipe and photo courtesy of cookitsimply.com
24-30 raw prawns or shrimp.
Marinate in juice of 1 lemon for 1 hour.
Melt 2 tbsp butter in saucepan, lightly saute 1 diced onion, 2 garlic cloves. Once soft, add prawns and stir for a few minutes until pink (don't overcook!). Remove from pan and set aside. [alternate: boil and peel prawns first, add them at end...being careful not to overcook them]
Add 2 tbsp tomato puree to remaining butter in saucepan, stirring over low heat.
Add 1/2 tsp dried thyme, 1/2 tsp cinnamon, 1 tbsp fresh chopped cilantro (coriander, chinese/mexican parsley), 1/2 tsp chopped dried chili peppers. Stir. [alternate: use fresh thyme]
Blend 175 grams (6 oz) sweet corn in a food processor or blender, with 300 g (1.25 cups) coconut milk. [alternate: use cream corn to avoid need for blending]
Add to pan and simmer until reduced.
Add prawns and 1 tbsp unblended corn, simmer for 5 minutes.
Garnish with fresh cilantro.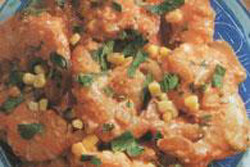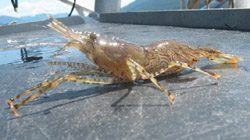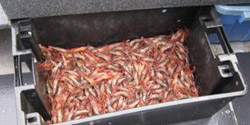 Sooke Fishing Adventures
info@fishingsooke.ca
Phone: 1-250-642-2587