BBQ Halibut Steaks with Lime and Cilantro
When fileting a halibut, the narrow ends near the tail can be difficult to cook with, as they are very thin and cook much quicker than the rest of the filet. Cutting the last few inches as steaks is a good way to use this meat effectively -- and they look good on the plate too.

Cut the steaks a little over 1 inch thick
Place in a freezer ziploc bag, with the juice of one or two limes, minced garlic, minced lime, and diced cilantro.
Marinate for an hour or more in fridge.
Heat BBQ on hot setting, brush oil onto grill so the fish won't stick.
Place steaks on grill, immediately turn down heat to med-low.
Spoon on marinade during cooking.
Cook approximately 3 minutes per side ... DO NOT overcook! Remember it will keep cooking while cooling on the plate.
Prepare a salsa: diced tomatos, finely diced red onion, a little diced garlic, diced mango, diced avocado. Yum.
Mexican inspired flavours for the Pacific North-West's favourite white fish.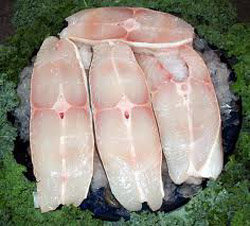 Sooke Fishing Adventures
info@fishingsooke.ca
Phone: 1-250-642-2587